How the zeitgeist influences trends
---
We are moving towards an era in which science and data importantly determine our eating habits. Food, in the years ahead, will be recognized as a tool to improve our performance.
The prediction stems from Peter Heshof, founder of Bloom, trend & marketing agency. The point at which this mentality starts to take hold, cannot be forecast with certainty. But it could happen faster than we tend to think. How, as a food producer, can you anticipate such tidal waves?
Euroma regularly develops new food concepts for a diverse range of clients. The views and opinions of Peter Heshof are always a source of inspiration. Heshof is convinced that trends do not happen by accident, but reflect a changing world view, following a predictable pattern. As a brand, understanding this can help you prepare for the future.
The zeitgeist model explained
Heshof's trend predictions are built on the spirit of a time, or 'zeitgeist' model.
This model is constructed on the pillars of eight consumer worlds.
Each of those worlds represents a primal need of human beings.
The eight worlds are imposed on four coloured planes, derived from the personality model proposed by the Swiss psychiatrist, Carl Jung.
Each colour plane, which roughly represents a time slot of 10-15 years, is dominated by certain primal needs.
This zeitgeist (spirit of an era) shifts over four planes, in conformity with the dynamics of the infinity model.
This is a recurring pulse and provides an understanding of which primal needs could be the next favoured.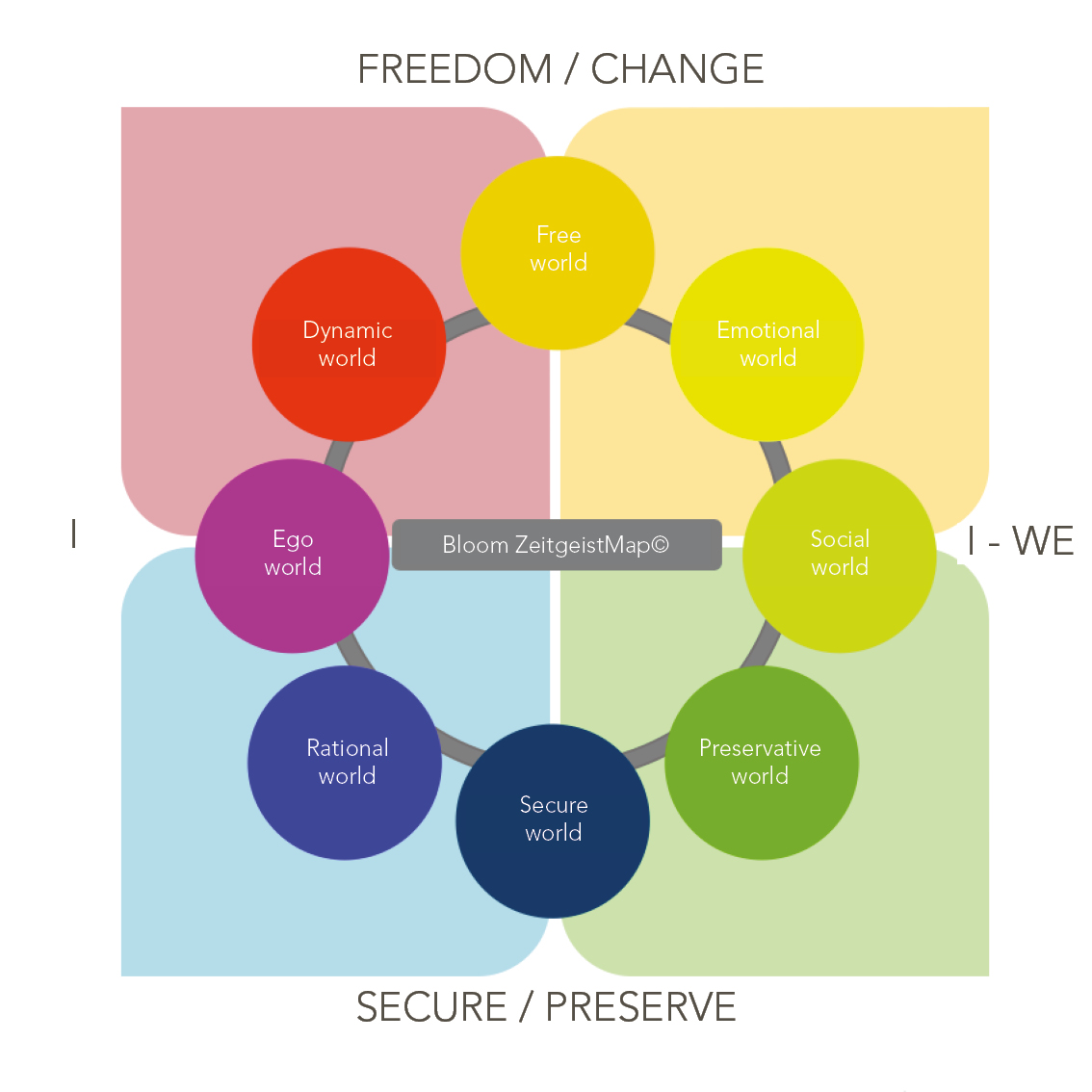 Where trends start…
Mindful of the zeitgeist view, Peter Heshof observes societal developments.
What's happening in the area of food, technology and so forth? What are the start-ups doing? What blowback- if any- is noticeable in current trends? Every year he makes a trend tour in the USA. According to Heshof, the USA is a country where – certainly in west coast cities such as Los Angeles and San Francisco – the old pioneering spirit still exists, partly because of the absence of a welfare state.
​​​​​​​This could explain why new trends often start in the USA.
Someone once asked me if they, as a business, couldn't skip the green period. It did not appeal to them. 'Of course', I replied. 'The only problem is that society won't do the same, and that includes your customers…'
Peter Heshof
---
GREEN | Passion for only the very best
We first consider the green period (2000 - 2015). It took hold in the early years of this century. There are obvious links with the 1950s. The group experience is important, except that you now get to decide with which group you wish to bond. Saving energy together, for example, is a bonding activity.
Various trends can be identified as belonging to this specific, time-bound world view. "Passion for quality", for example, has been the dominant food trend in the green period. Only the best herbs, the best cappuccino. Thus, a veritable plethora of specialisations has cropped up. We saw retail businesses focusing on a single product. In cities, you could find niche retailers such as dedicated (Iberico)ham shops and macaron boutiques.
For food producers the lesson here is that you had better come up with a good product. The public wants authentic and pure flavours, and transparency about ingredients and countries of origin. Clean label products that are of the best quality and taste.

When has a trend run its time? When it's being mocked.
Videos such as this herald end times for the green period.
---
YELLOW | Emotion and freedom
The yellow period is marked by dislocation; digital disruption and tensions between population groups. Healthcare, mobility, everything is up for debate. A growing generation of millennials is in the thick of it and has adopted a permanent, critical view of how things could be done differently and better organised. The yellow period, typically, is the domain of emotion and freedom.

Food as an experience
Where, in the green period, consumers were prepared to pay for the best product, in the yellow period, perception is the dominant factor influencing consumer spending. A good story behind your product makes the consumer feel good. But there is more. Perception and experience matter most, and these are emotional indicators. The younger generations do not flaunt expensive goods and possessions, their status derives from experiences, shared via the social media.

The new fashion
In the domain of food, too, we are searching for the complete, sensory experience. Smart food producers focus on this multisensory experience- the urge to experience an explosion of flavour. We taste sour beer, bitter beer, sweet beer. We experiment with a new ice-cream flavour weekly. Product packaging is ever more important and the consumer expects a good story. Food should not only taste good but look good too. Colour is a beautiful appetiser. Eating from a bowl is very fashionable; a beautiful picture that can be shared en masse, after all: 'food is the new fashion.'
---
BLUE | Reason rules
Where food in the yellow age was much an emotional matter, reason, in the coming blue period, rules our choices. The expert – often a digital one- is the hero. We're inviting robots in our homes. Big data tells us how we can become 'superhumans'.
According to Peter Heshof, the first symptoms of the arrival of a blue period can be seen already. Watson, IBM's supercomputer, can create recipes. Referencing 100,000 recipes and analysing ingredient combinations and human preferences, the computer generates extraordinary and surprising taste combinations.
With most bloggers still firmly entrenched in the yellow era, science cautiously corrects their opinions for fact. Peter Heshof predicts that this is an expanding domain. Is organically grown food really a good idea? How do you make the ultimate, absolute, tastiest mayonnaise? Science has the answer. Safety, in the blue period, is paramount. Of all those home-made jams that are circulating, we would ask, how safe are they really?

Personalised data to enhance performance
Science will assist us in maximising the nutritional value of food. The vitamins which pepper or ginger contain are deemed more important than the authenticity of the herb or spice. Food, first and foremost, is about improving yourself: how do I improve my digestion, how do I reduce my cholesterol, what foods help me sleep better, which ones enhance my performance in sport?
Thanks to scientific data and increased accessibility of DNA research, we are able to formulate personalised answers to all question concerning what is best for you. In the not very far future we will be served a personalised salad, prepared on the basis of our own DNA and taste preferences.
---
Your wrist watch tells you exactly what you should eat for dinner, based on your DNA and your day time activities. For family members, likewise, a selection of unique, personalised recipe suggestions appears, containing the exact required nutritional values for optimal performance. All ingredients are ordered at the push of a button.
How do I prepare myself, as a food producer?
Does all this suggest that, as a food producer, you should be looking to tailor your marketing plans and business processes to the expectations of a blue trend? No, not necessarily, says Heshof. If you leap too far ahead, you'll only scare people. This is a new period, and consumers will appreciate what it offers when they are ready.
However, there is no harm in considering some of these ideas in your company strategy. For example, you could make a provision for investments in knowledge and technology. Connecting with scientists and collecting data is a good start. It can help you prepare for the task of assisting consumers in choosing the tools to maximise their performance, when the time is right. For the many who tremble at the prospect of entering a blue period, Heshof has a comforting message.
"The transition to a blue trend period does not spell wanton abandonment of the values of now.
The zeitgeist always builds on the past, we don't regress backwards. Values such as healthy and tasty foods, and a concern for sustainability will stay with us."
So, all is well.