About Euroma
For almost 120 years, Euroma has travelled all over the world looking for the very best herbs and spices. With this rich history, we can offer total solutions to leading players in the international food business. With passion and entrepreneurship, our committed employees create the most qualitative and innovative food products. Euroma has grown enormously in the past decade. Revenue has grown strongly and our own Euroma brand is gaining in popularity. This entrepreneurship is also reflected in the acquisition of Intertaste and the construction of the new state-of-the-art location in Zwolle, where we are expected to move into during the summer of 2019.
A top 3-position in the European market of herbs and spices. But above all, deliver the best and most innovative products to food companies all over the world. That is what Euroma strives to be. The recent acquisition of Intertaste is a characteristic move within that strategy. In this video, CEO Robert Hoogstra sketches briefly how the Euroma dream came about.
Production locations
Euroma currently has 5 production locations in The Netherlands.
Wapenveld (HQ) - herbs & spices, dry products
Utrecht - dry products
Puttershoek - herbs & spices
Schijndel - liquid products
Nijkerk - liquid products
Zwolle - under contruction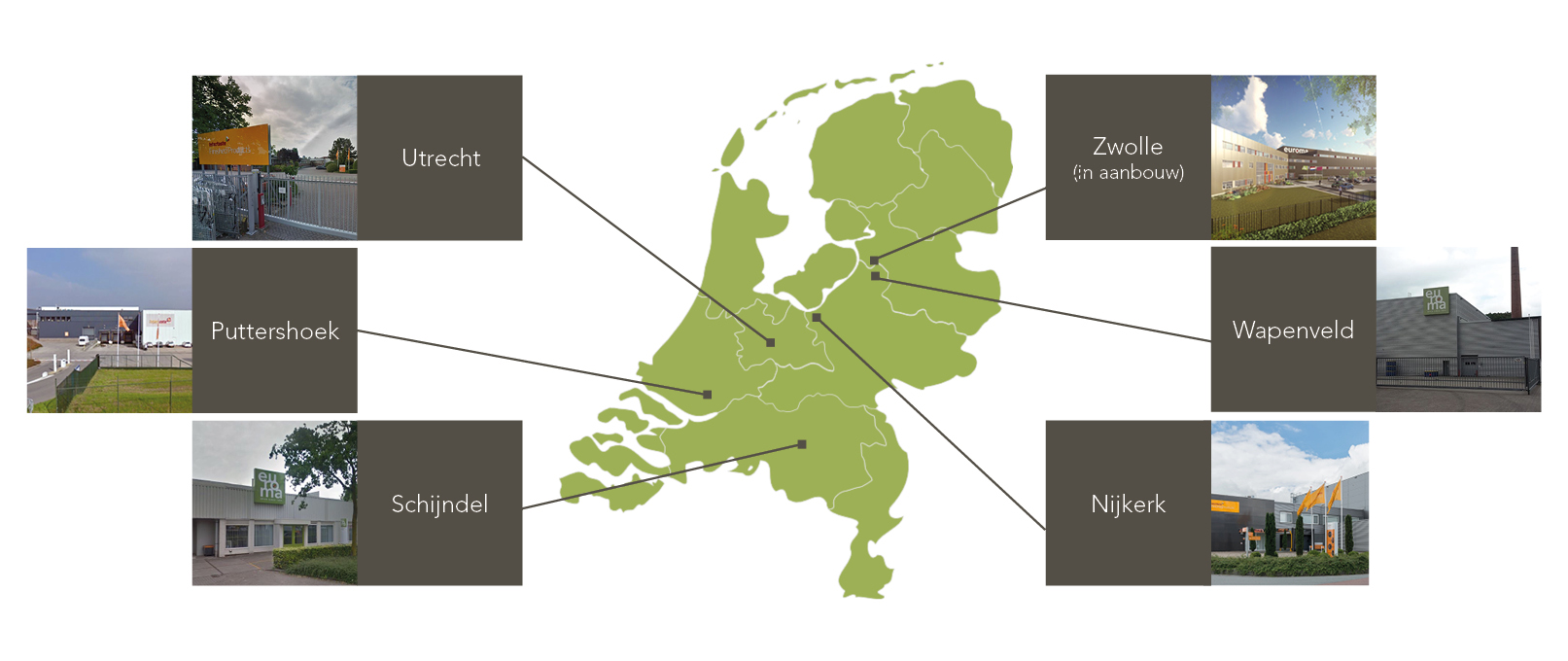 Our mission and core values
Euroma has a boundless ambition and is fast becoming the leading flavour maker in the market. Euroma's mission is therefore: "Euroma is Europe's foremost partner of taste, providing food business with a total range of spice-based solutions."
We're always ready to develop tasty, healthy, sustainable and food-safe ingredients for you, using herbs and spices from across the world. We build on from the foundations of more than a hundred years of experience and entrepreneurship, we mix tradition and craftsmanship with modern and cost-effective processes.

There are a number of values we attach great importance to:
Passion
We love our work. We love to tackle the challenges presented by our customers to develop solutions for spice demand, making it possible for the business of both our customers and our own enterprise to grow on a continuing basis.
Responsibility
At Euroma, we know when to take responsibility. We do this as a business and we expect each of our individual employees to do the same. We are a reliable partner for our customers, suppliers, employees and society. We simply choose to do what's best.
Entrepreneurial
Recognising and giving content to opportunities, being able to make quick decisions and thinking and acting with the customer in mind. This is how Euroma sets itself apart from its rivals in the sector. We are a business that has both feet firmly on the ground, a business that always puts the customer first.
Sincere
We like to be ourselves. We appreciate honest behaviour and we do as we promise. Working with Euroma means you can truly count on us. Honest products, honest employees, that's what we stand for.
Our product categories
Within Euroma we have 5 product categories, each with an dedicated category innovation manager.
These 5 categories are:
Fresh Convenience
Snacks
Herbs & Spices
Ambient Meals
Soups & Sauces
And other categories as well