Innovation process
Food innovations: Step-by-step from idea to introduction
Euroma has proven itself as an innovative product developer and as a creative product enhancer. We help our partners to be first on the market with interesting food innovations as well as breaking new markets. We have the in-house knowledge and expertise to quickly develop these innovations and improved products from idea to product.
Trends
Even in the food industry, business is increasingly about speed. Companies that respond to what consumers want and lead the way in trends, are the most successful in the business.
Technological innovations, new ingredients and flavours, a growing popularity for dishes from exotic countries inspire our product developers to take advantage of market opportunities. The final result: Balanced recipes and herbal compositions in attractive packaging.
Euroma sees opportunities, they have good market analyses, followed by a clear vision.
Euroma Connected (Customer Survey)
Euroma's innovation process
The translation of trends to opportunities, space for creativity and product knowledge; these are all ingredients in the Euroma innovation process, with which we shape the creative process. This allows us to quickly launch products to market, as early as six months after idea creation. Euroma's own product lines are also the fantastic result of this process.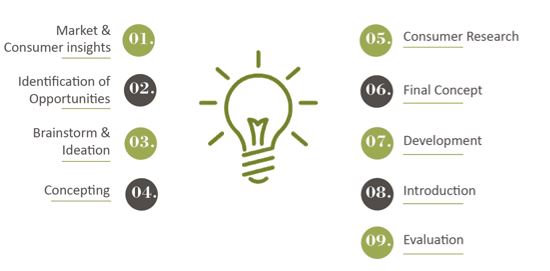 Innovating together
An important part of the innovation process is the ideation phase, in which we co-create food concepts with the customer to enable the grow of their business.
The ideation phase starts with a creative session in our House of Taste. In a professional setting, Euroma inspires those present with relevant societal and consumer trends in food. A multidisciplinary team of product developers, marketers and account managers from both the customer and Euroma will then start working with possibilities for innovative total solutions.
The result of this brainstorming is an idea selection that forms the basis for the development of new food concepts. Euroma then translates the best ideas into concrete concepts, from flavour directions to complete packaging concepts. Depending on the customer's choice, Euroma develops the final product and supports the customer where necessary for a successful introduction to market.