Euroma: new production site
---
Euroma is moving this year. It is the next step and a new milestone in achieving our growth targets. At the same time the merger of our business operations has led to a number of choices concerning our production locations.
In 2018 we made a big stride ahead towards our envisaged growth with the merger of Euroma and Intertaste. Two companies have become one and together now hold a top-3 position in the European herbs and spices market. More importantly, as a team we are ideally placed to fully support our customers in fulfilling their ambitions. With our strengths combined we are able to to offer more knowledge, experience, production capacity and taste solutions.
Euroma's new portfolio
Our portfolio has broadened. This led us to concentrate our activities in three core specialisations:
liquid taste solutions such as marinades, mayonnaise and (satay) sauces;
liquid fresh products including fresh sauces, dressings and vinaigrettes; the dry production of herbs, spices, soups and sauces
Our factory capabilities
Each specialisation is assigned to an own production location in the Netherlands: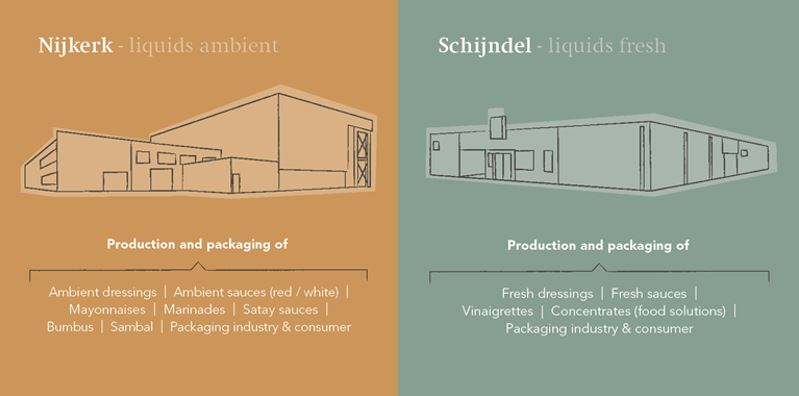 In Nijkerk, we produce and package our ambient liquid solutions.
In Schijndel, production and packaging take place of (cooled) fresh liquid products.
For now, the production of herbs, spices, soups and sauces still takes place at three locations: in Puttershoek, Utrecht and Wapenveld.
However, to facilitate future capacity growth whilst meeting the highest quality standards, Euroma is concentrating and modernising its production. Our expertise in the field of dry products will be centred in Zwolle.
Transition in 2019 and 2020
In 2019 we are relocating to Zwolle, where we have constructed one of the most innovative and sustainable production locations of herbs and spices in Europe. The new factory will enable us to continue delivering quality products to our international food partners, far into the future.
The transition is implemented in stages. Before summer 2019, we are moving to our new headquarters.
The commercial production process follows a phased transition schedule, allowing a careful transfer and testing of production volumes from other locations.
The factories in Puttershoek and Utrecht will be closed in the second half of 2019, once all production lines in Zwolle have been rigorously tested and declared operational.
In this way, a smooth transition is to be secured. The factory in Wapenveld will not close before production in Zwolle is fully operational. This will take place in the course of 2020.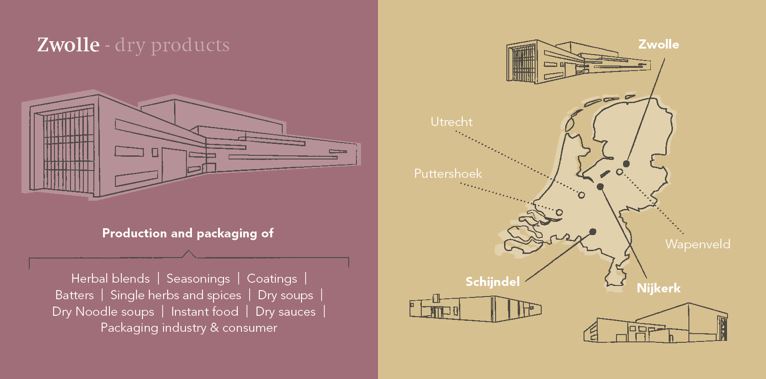 From these three factories we will continue to proudly inspire you, as our business partner, with a broad range of solutions in taste and packaging. Please be assured that you will be kept informed of all relevant details concerning the transition process.
Any questions?
Your Euroma account manager is pleased to answer all your questions.